13 July 2020
|
The Wind-Free Deluxe from Samsung
Samsung has extended its Wind-Free wall-mounted range to cover medium to large commercial buildings with the addition of the Deluxe model for VRF and heat pump systems.
Steve Fleming, Head of Air Conditioning at Samsung, said: "We're always keen to launch the most innovative products to market, and this product extension is an example of that. Since the launch of the Wind Free range, it has always been our goal to make Wind-Free technology available for a wider audience. The product is able to disperse air in a uniform stream, to allow the user to be comfortable, without experiencing those unpleasant cold draughts."
Similar to the wall-mounted models for residential usage, the Deluxe is equipped with Samsung's Wind-Free technology, which uses thousands of micro-holes to disperse fresh air uniformly without any unpleasant blasts of cold wind.
The Deluxe can be operated via wired or wireless controllers that feature various advanced functions for convenient control of indoor climates. Additionally, the unit can be controlled and monitored remotely by using the Samsung SmartThings App and Bixby Voice Control2 letting users turn their air conditioner on or off, select preferred cooling modes, schedule operations, and monitor energy consumption. For smart functions to be available, the optional Wi-Fi kit needs to be installed.

Easy installation
Samsung says the new unit has been designed to be installed and serviced easier and faster than conventional wall-mounted models. Compared to conventional brackets, the Wind-Free Deluxe uses a roller type bracket that easily slides into place and for which only two installation screws are needed. This results in an up to 45% shorter installation time compared to conventional models3. Additionally, the unit features a snap-fit bottom cover that can be easily opened and closed in case of servicing. Due to the outside placement of the air filters, servicing can be done without opening the entire unit.
Within the EHS range, the Wind-Free Deluxe can be combined with the TDM Plus system. It can be used throughout the year for cooling and heating and enables underfloor heating/cooling and radiator heating, as well as offering air-to-air cooling with various options for air conditioning, such as the new Wind-Free Deluxe. The system's potential can be maximised by connecting to Smart Grid or Solar Power (PV).
For Samsung's DVM VRF, the units range in capacity from 1.5 to 8.2 KW and are available with and without an EEV kit. For heat pumps, the units range from 1.5 to 8.2 KW and are only available with an EEV kit.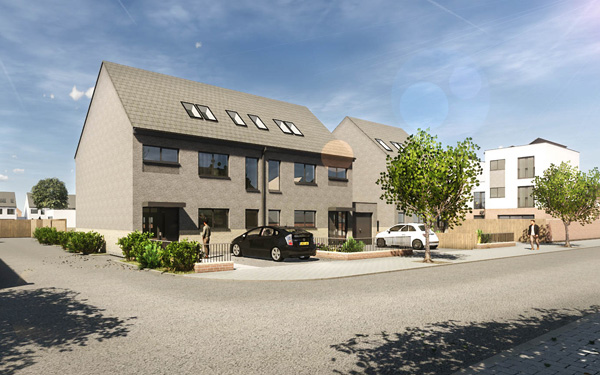 The launch followed the announcement that Samsung Climate Solutions and smart home developer Etopia plan to deliver 6,000 smart energy-efficient homes in the UK over the next five years.
Etopia aims to combine energy, construction and intelligent technologies to build some of the world's highest performing buildings, with eco homes at the UK pilot scheme in Corby, Northamptonshire, tested achieving an average of 103/100 EPC rating, beyond an A*.
Content continues after advertisements
The Samsung TDM Plus system combines a high-efficiency air-to-water heat pump with an air conditioning system, with a single solution providing heating, cooling and hot water.
The outdoor unit is connected to an indoor 'hydro unit' to convert energy from refrigerant to hydraulics as do others, but uniquely the product can also connect up to five indoor air conditioning units, including the newly-launched Wind-Free Deluxe high-wall mounted, ducted or floor-console units to suit the project.


Meaningful innovation
Output capacities on the outdoor units range from 4.4kW up to 16kW to suit a range of property types, with the indoor units offered in a range from 1.5kW up to 9kW. The Climatehub hydro unit combines the major system components in a packaged, appliance-style unit available in 200 and 260Ltr hot water storage capacities to suit occupancy.
Control of the indoor units can be via an LCD controller or individual wireless remote controllers. The system features on-board energy monitoring functions and optional Wi-Fi control using Samsung's SmartThings home automation platform.
Project Etopia CEO and founder Joseph Daniels said: "We have pioneered technologies across the construction, energy and IoT industries to create the blueprint for the homes of the future, as we recognise that the climate change fight will need support from all sectors, and Samsung partnering with Etopia shows that big tech is taking the fight seriously and I for one am extremely delighted to be partnered with one of the world's leading technology company to increase our efforts."
Francis Chun, President and CEO, Samsung Electronics UK & Ireland, said: "At Samsung, we believe that innovation is only truly meaningful if it enables people to make progress in their lives. Across everything we do, our efforts aim to be in harmony with our planet, and this partnership sets out to do exactly that. We are proud to be taking a step into this field and are delighted to be working with Etopia to help build a better future."