25 October 2021
|
ACR TRAINEE OF THE YEAR
Sponsored by Dean & Wood
Winner
Luke Haile – Lightfoot Defence/Eastleigh College
Luke has developed into a very confident young man who works well under pressure on his own and with colleagues. He is self-motivated and has shown he adapts well to different challenges and environments through his day-to-day work and his journey through college and onsite training.
Luke is very ambitious and determined to succeed, yet humble with it. It seems that once he has set his eyes on something he puts his all into achieving it. When he started training at the college he came in as an apprentice, into a class that were predominately slightly older than himself, with most already having been working in the industry for a while. He was not daunted by this and just got on with his learning. Luke has used his time at the college to enhance his own theoretical knowledge along with his practical skills and has on numerous occasions assisted some of the slightly less able members of his class during both the theory and now and again in practical sessions if he believed he could help them out.
He is something of a sponge in class, absorbing all he can as he goes through his training. He spends a huge amount of his personal time trying to help all the apprentices in the class by helping prepare shorthand notes, diagrams, drawings, and explanations to aid with revision.
Highly regarded by his employer, Luke is described by tutors at Eastleigh as a pleasure to teach as he really wants to learn. He is continuously asking questions if he does not understand something and once he is told something, he rarely forgets.
Runner-up: Jessica Long – SURE Solutions/Hugh Baird College
Highly Commended: Steven Watson – Lynx AC/Grimsby Institute
ACR WOMAN OF THE YEAR
Sponsored by Women in RACHP
Linda McVittie
Linda McVittie, technical sales manager for J & E Hall in Scotland, has been involved in the formulation and/or delivery of sustainable strategies and solutions during a career which spans a 30-year background in ammonia refrigeration plants.
In March 1998 she became a full member of the Institute of Refrigeration (MInstR) and in April 2002 was invited to join the Scottish Branch Committee as its first female member. Linda went on to become the first female Chair of the IOR Scottish Branch (2007-2009).
Despite being discouraged from entering engineering at school, she went on to gain City & Guilds qualifications and studied part-time for a BSc degree in Building Services Engineering while working. She is a Corporate Member of the Chartered Institution of Building Services Engineers and a Chartered Engineer through the Engineering Council (CEng).
Acting as an advocate for women in work and in STEM, based on her personal experience, she actively encourages women to pursue a career in engineering and her dedication was recognised earlier this year when she was named in the Women in Engineering Society's (WES) Top 50 Women in Engineering for 2021
PHIL CREANEY ACR CHAMPION
Sponsored by ACR Journal
John Billson
As so many people seem to do, John Billson, managing director of Beijer Ref UK & Ireland, came into the industry through a family connection. Living near Glasgow at the time, his mum worked for a refrigeration company and it was due to this link that he found an opportunity to join them and start his apprenticeship.
He continued his engineering career travelling the length and breadth of the UK, working for another company based in Torquay, then in Leeds and in Bradford.
In 1989, he decided it was time to hang up his spanners and replace them with pens and paper and joined another company in Leeds as a sales engineer, selling to the Yorkshire and Nottinghamshire areas.
In 1993 he became the northern regional sales manager, responsible for the northern sales team, and this was the start of his rise, subsequently becoming national sales manager, vice-president for sales & marketing and finally managing director.
Following the 2004 acquisition of the business, his role has grown as he has helped the Beijer Ref group of companies in the UK and Ireland become what it is today.
ACR ANCILLARY PRODUCT
Sponsored by BITZER
Mitsubishi Electric - Plasma Quad Connect
In response to the global pandemic, many air conditioning manufacturers have introduced air purification technologies for new models that can guarantee to inhibit SARS-CoV-2. However, Mitsubishi Electric is the only manufacturer to offer a bolt-on purification device with such broad compatibility across its entire range. The air purifier can be fitted to new and existing installations of their wall-mounted, ducted and cassette indoor units.
Launched in the UK in April 2021, after extensive independent testing in Japan, the device offers improved indoor air quality and can neutralise six key indoor pollutants, as well as inhibit 99.8% of SARS-CoV-2. It has been found to be effective against bacteria, dust, viruses, mould and allergens such as pollen, in addition to microscopic particles down to PM2.5, thereby helping improve the safety and comfort levels for building occupants.
The technology works like an electrical curtain to catch and neutralise key pollutants and even microscopic particles in the air, to significantly improve indoor air quality. It achieves this with a two stage process: Stage One produces plasma to 1) inhibit viruses and bacteria; 2) break down allergens and mould; 3) electrically (+) charge dust and microscopic particles PM2.5. Stage Two creates a strong electrical (-) field to absorb dust and microscopic particles PM2.5, thereby ensuring that clean air is sent back into the room.
With regular maintenance, Plasma Quad Connect has the same service life as an indoor unit. Plasma Quad Connect is automatically powered when the air conditioning is in operation and consumes 4W, the same as a standard domestic LED light fitting.
Highly Commended: Toshiba - Triple Rotary Compressor
ACR CONTRACTOR
Sponsored by Toshiba
SURE Solutions
Sure Solutions is passionate about developing staff and is proud to have a fully-fledged training programme with eight apprentices. Managing director Garry Shaw is a staunch advocate of training and development to allow progression from within and SURE is also part of BE More, the North West apprentice ambassador network.
The business was founded in 2016 and has grown to a team of 30-plus. It recently expanded the service team to offer electrical installations, allowing more work to be brought in-house. SURE's accreditations include REFCOM, ISO9001, ISO14001, ISO45001 and Safe Contractor.
The company has quarterly reviews with all clients, regardless of value, and the sales team is in constant contact with customers. SURE feels this level of focus enables it to identify issues quickly and effectively and create bespoke maintenance packages and solutions.
SURE has completed work to improve and extend Cranswick's existing food processing site in Hull and double the footprint from 100,000sq ft to 200,000sq ft. Due to the complexity of introducing ammonia to the existing structure, SURE offered CO₂ as the refrigerant to serve the holding and blast freezers and glycol for the chill areas. Keeping the existing 24/7 facility operational whilst decommissioning 76 air coolers, 6 AHU Systems, 27 compressors and removing and disposing of nearly 5,000kgs of HFCs presented the biggest challenge.
SURE has secured a 3-year maintenance agreement to support the installation and the client has awarded a similar contract on another site. SURE has also won the refrigeration tender to assist with the build of its next new production facility.
Highly Commended: 3D Facilities Support
ACR PRODUCT
Sponsored by Corrigan Bentley
Toshiba - Seventh Generation VRF
Toshiba's seventh generation VRF system, SMMS-u, breaks new ground for the industry in terms of efficiency, connectivity, flexibility, compactness and ease of installation. This is made possible by several innovations, including a pioneering new triple chamber rotary compressor, developed in-house by Toshiba, which is a global first. With a refrigerant pre-charge almost 50 per cent less than the previous model, it also offers significant safety and environmental benefits.
Amongst the key benefits of SMMS-u, total piping length is increased to 1,200m, with 250m permissible from the outdoor unit to farthest indoor unit - extending application to an even wider range of building types and configurations. Additionally, a height difference of up to 110m is possible between outdoor and indoor units – giving project designers even greater flexibility in applying the system.
A new oil management system that ensures continuous compressor lubrication and overcomes the need for piping for an oil balance circuit, speeding up installation on site, while access to key system information and start test-runs via Toshiba's Wave Tool Advance app gives installers rapid access to commissioning and performance data. Also available is a new service tool for use with laptop devices that can be accessed from either outdoor or indoor locations, plus an intelligent sensor-based defrost system developed by Toshiba that only initiates defrost when absolutely necessary, maintaining up to five hours of continuous heating.
Nine single modules from 8 to 24HP and up to five outdoor units can be combined to achieve 120HP system capacity.
Highly Commended: Panasonic – nanoe X
ACR PROJECT
Sponsored by Dean & Wood
Exi-tite and KPR Mechanical - Chilled Water Refit at the Midland Hotel
As part of a £14million refurbishment, Exi-tite was selected to design, supply and support a replacement chilled water system that serves the function rooms via air handling units and fan coil units in open areas on the ground floor. KPR mechanical was chosen to install the project.
The existing chiller plant and cooling towers were replaced with modular water-cooled chillers operating with dry coolers. Four York condenser-less modular chillers were selected and adiabatic coolers were chosen to offer increased cooling capacity from a reduced footprint, along with associated energy efficiency gains.
It was decided to integrate the liquid chiller system into an existing heat energy loop. Including the condenser water loop into this circuit allowed for heat energy to be utilised in the summer to maintain the heating applications such as the swimming pool and jacuzzi heating circuits.
The system is integrated with an existing BMS through integrated Modbus RS485 connections. This allows the BMS to stage and rotate the operation of the four chillers depending on flow and return temperatures on both chilled water and also the condenser loop feeding into the energy recovery loop.
Taking into account the comparative design efficiencies, for chilled water application only the new system would save approximately £55,500 per year in operational costs. The addition of energy recovery offers a potential saving of £26,000 per year.
In terms of CO₂ equivalent emissions, chilled water production reduces CO₂eq by 39.04 tonnes, and heat generation through the energy loop reduces CO₂eq production by 490.4 tonnes.
Highly Commended: Fujitsu General Air Conditioning UK - Replacement Chilled Water System, Warrington
CHILLER PRODUCT
Sponsored by Modern Building Services
Aermec UK - TBA Glycol Free Chiller
The air cooled Turbocor (TBA) chiller, with integrated glycol loop that confines the glycol to the chiller, offers significant energy improvements whilst reducing the usage and costs of glycol. It can be used in a variety of applications including data centres, mission critical facilities, commercial buildings or any other application where there is a requirement for glycol to be removed from the system.
The concept is unique and was born out of a requirement by a customer that sought a high efficiency outdoor unit using a Turbocor chiller that 'designed out' the glycol from a mission critical data centre hall's circuit and kept the glycol on the chiller to reduce costs, improve efficiencies and minimise the environmental impact. Aermec wrote new algorithms to overcome the many challenges, ensuring that efficiencies and energy savings were not compromised.
Product benefits include the ability to operate in three different modes: total free cooling, mixed mode or hybrid free cooling.
The all aluminium micro channel condenser coils offer a high thermodynamic performance and low air pressure drops which minimise fan electrical power. They are a lower weight and the amount of refrigerant in the cooling circuit is reduced.
Highly Commended: Tecumseh Europe – Infinee With Natural Refrigerant, R290
WHOLESALER/DISTRIBUTOR
Sponsored by Hitachi
Secon and AUK Distribution
The merging of AUK Distribution and Secon Renewables has created a significant presence across both the renewables and HVAC industries. The combination of extensive product ranges, various fields of expertise and two closely related organisations allow excellent customer and product support from a localised team. The combined businesses offer an extensive range of products, a contactless trade ordering system and next-day nationwide delivery.
The business has been built around a single distribution warehouse which services national sales, but customers can access products and place orders online 24/7. Secon has the most extensive online offering of renewable products and ancillaries in the UK, ensuring customers can access all the products they need at all times. The webshops are trade-only to ensure customers' interests are protected, with prices only available to vetted and registered companies. This also helps to ensure full compliance with F-Gas regulations.
Approximately 4,000 different products are available and the business is the sole supplier of many brands across the heating, ventilation, air conditioning, refrigeration, and renewables sectors. It aims to provide 'good, better and best' options across all ranges to give customers more choice, depending on budgets and requirements.
The products on offer are continually evaluated, with new items only added after careful assessment of the appropriate market and where customers struggle to find a solution.
Technical specialists are in place across all business areas and all customer-facing staff are trained to offer both essential technical and selection support. Site technical and commissioning visits are available, which can also be used as dedicated product training.
Highly Commended: MHI Direct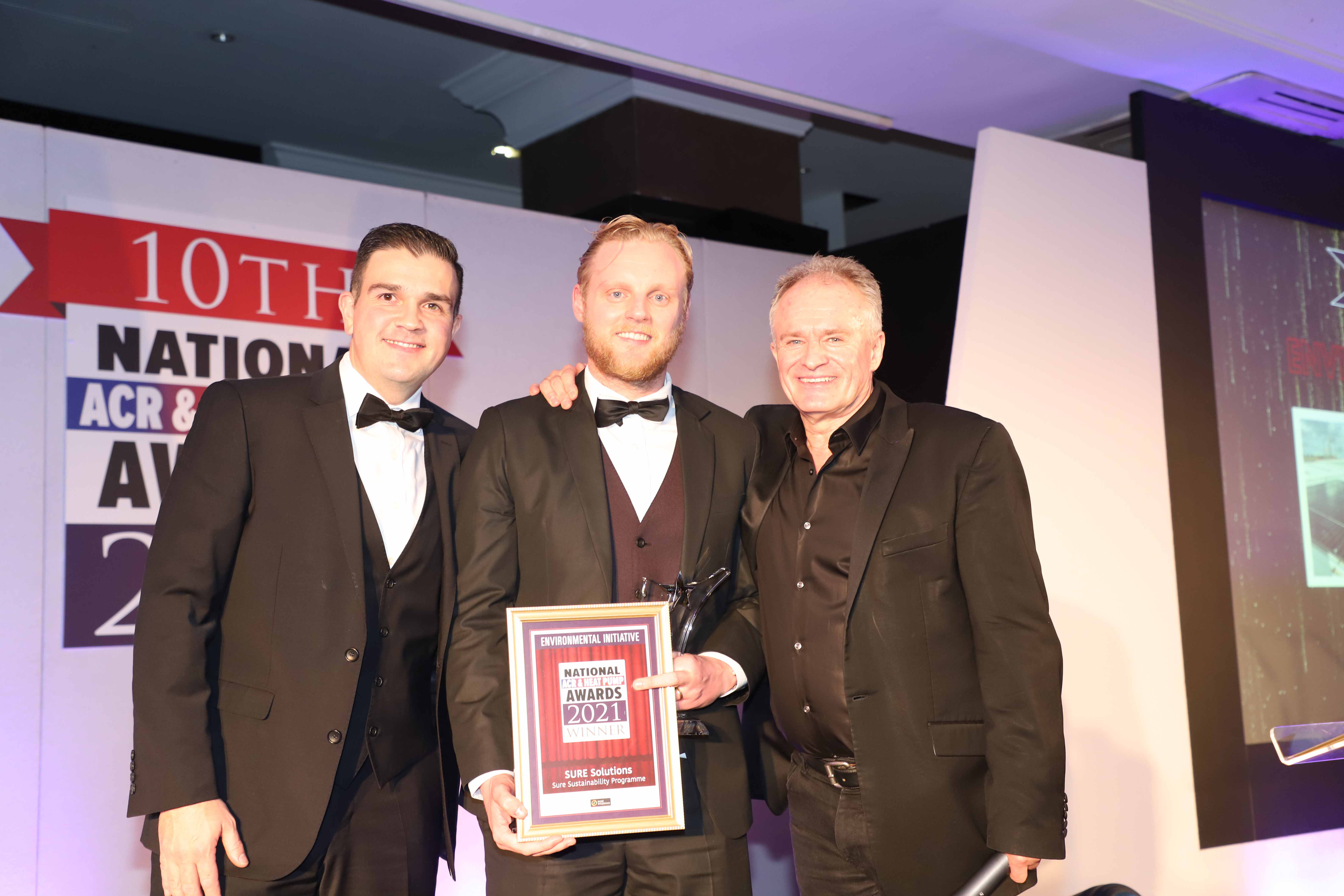 ENVIRONMENTAL INITIATIVE
Sponsored by Dore Woodman
SURE Solutions - SURE Sustainability Programme
The aim of the programme is to remove the link between the growth of the business and its environmental impact, and to help promote green business practices to other companies. SURE is passionate about having a positive impact on society.
Having moved to its current premises in 2018, SURE began its journey to net zero by partnering with Liverpool John Moores University on a research project to firstly assess the carbon footprint of its total business, and secondly understand the future direction of the refrigeration industry. SURE also learnt to measure and self-monitor, which is now done on a quarterly basis
The company aims to be carbon neutral by the end of 2021, achieve net zero for its office premises by the end of 2022 and for the entire business to reach net zero by 2025.
Measures already taken include the installation of 52 panels of 20kW solar generation, installing a heat pump to replace the use of gas on site and replacing all office fleet vehicles with either electric of plug-in hybrid.
SURE has calculated that it has reduced annual energy consumption through removing fossil fuel burning and the introduction of solar generation by 11.782 MWh, preventing 15,835.77Kg of CO2 reaching the environment.
Content continues after advertisements
Having established that 90 per cent of its emissions came from vehicle travel, the adoption of a EV/hybrid office fleet means that 13,213.87 KgC02e has been saved.
Highly Commended: WAVE/ASDA - Total Cost of Ownership Calculator
REFRIGERATION PROJECT
Sponsored by Blygold
ASDA & CBES – ASDA Adiabatic Solution Rollout
To support an ageing refrigeration fleet that in the coming years will be changed out to meet the requirements of the F-Gas Regulations, ASDA and CBES developed a retrofittable adiabatic solution that mounts to refrigeration plant condenser faces. The primary purpose of this adiabatic solution was to maximise refrigeration system asset uptime through increased capacity during high ambient conditions.
The adiabatic solution increases the effectiveness of the heat transfer from the condenser to the atmosphere, this also reduces the amount of energy required to condense and sub-cool the refrigerant.
If employed on all ASDA plant systems, the adiabatic system would mean an annual energy saving of £2,158,998. Though the optimal purpose of the adiabatic solution was to maximise the refrigeration system asset uptime during high ambient conditions, since the implementation, many energy benefits have been recognised, further adhering to ASDA's refrigeration enhancement solutions going forward.
Data collected from visits to 23 of the 43 sites where the adiabatic system is installed reveals that 68 per cent of the fitted packs show savings, with a total savings of 609.6KWh/day across the sites, demonstrating that for most sites, the adiabatic solution has a positive effect on the energy consumption. For packs demonstrating savings, there is an average energy saving of 17.9KWh/day (6544.7KWh/annum) per pack. The results found so far exemplify the effectiveness of our solution, concerning a reduction in energy consumption. The savings are equal to 4.14%.
Highly Commended: SURE Solutions - Lazenby's, Cranswick Foods
REFRIGERATION PRODUCT
Sponsored by World Refrigeration Day
BITZER UK - ECOLITE Range of Condensing Units
The ECOLITE range of air-cooled condensing units is designed to meet the requirements of customers looking for a high efficiency, easy-to-install product made from high quality reliable BITZER components.
The unit is based on BITZER ECOLINE compressors with sophisticated capacity control, optimised condensers and variable speed fans. All seven models in the range are suitable for low and medium temperature applications, as standard. The design is conceived to be future proof, being suitable for use with a wide range of refrigerants, including A2L flammable refrigerants, R550A, R513A, R1234yf, R1234ze(E), R404A, R448A, R449A, R407A/C/F, R454C, R134a, R455A.
Compressor capacity is managed by quick reacting CRII–VARISTEP control, developed by BITZER as a lower cost but effective alternative to inverter-based systems. It enables proportional modulation of compressor output in response to changes in load and system conditions. This gives stepless capacity modulation from 50 per cent up to 100 per cent as standard, and 10 per cent to 100 per cent as an option.
Further features contributing to efficiency and performance include second set-point to control night operation; an ECO mode made possible by fine control of fan speed; a function that allows condensing temperatures to float, depending on current load and ambient; narrower band of fluctuation for low pressure, allowing higher evaporation temperatures, delivering COP gains of around 2-3 per cent per K; reduced compressor starts results in lower current draw and improved control of the temperature set point. A sophisticated controller, included as standard, adds to the unit's flexibility and ease of use.
Highly Commended: TEV - A2L SysteMatch with Micro-channel Coil
TRAINING PROVIDER
Sponsored by Fujitsu
Grimsby Institute of Further and Higher Education
The main focus at Grimsby is on apprenticeships, supported by bespoke training to suit the business needs of clients including F-Gas, mobile air conditioning, refrigerant handling, hydrocarbon handling and ammonia handling. Training in air conditioning installation, commissioning and decommissioning, and electrical fault-finding basics is also available.
The Institute delivers inclusive learning via Microsoft Office, allowing students to customise their learning experience to suit individual needs. Courses are now paperless following the introduction of class notebooks which allows both the Institute and employer to keep track of progress remotely. This also allows the student and tutor remote access to go through anything that they require further assistance with outside of block attendance.
Equipment installed includes a Danfoss Turbocor compressor, which allows students to see this running live and solve faults that appear (such as bearing alignment), Co2 training rig, and multi evaporating systems utilising industry standard cold rooms that are suitable to run on A2L refrigerants.
Specialist tools available include digital torque wrenches, digital manifolds (as well analogue) , Bluetooth weighing scales and temp probes, digital torr gauges (as well analogue) and A2L-compliant reclaim rigs.
Fixed leak detection systems are on site to show students the importance of detecting refrigerant leaks quickly, while multiple condensing units of various manufacturers enables the demonstration of best practices and procedures in maintaining the equipment.
Ground source and air source heat pump systems provide students with practical experience, while the fault-finding bay enables logical problem solving on electrical and mechanical faults on both air conditioning and refrigeration systems.
Highly Commended: Daikin UK
AIR SOURCE PROJECT
Sponsored by Climalife
R A Brown Heating Services - Family Dream Home
The new-build property is set in an acre of land in rural Norfolk, where there was no access to a gas supply. In addition to the family home, the homeowner built an annexe which was to become home for his parents. There was a total of 6,500 sq ft of property to heat, along with an indoor swimming pool.
R A Brown produced a bespoke design for the heating system to have maximum efficiency. The project incorporated three NIBE F2040 16kW air source heat pumps, alongside a 500L hot water cylinder and a 1000L buffer vessel. There are 3,000 metres of underfloor heating pipe working at a maximum flow temperature of 45°C and the heating system is mainly operated by weather compensation with additional thermostats.
The house and annexe has a total heat loss of 23.2kW with an annual heat demand of 31,300kWh. R A Brown expects 5442 kWh of electricity to be used, giving a SCOP of 3.76. The swimming pool has an annual heat demand of 58,174kWh, with 5442 kWh of electricity expected to be used, giving a SCOP of 3.53.
The property had a dedicated plant room built to house the heating system. The house was also fitted with a large 10kW solar array PV system which was compatible with the heat pump controller integration. This enabled the heat pump system to utilise any excess energy from the PV system.
Highly Commended: Vaillant - 15th Century Hunting Estate
DOMESTIC GROUND SOURCE PROJECT
Sponsored by Ground Source Heat Pump Association
R A Brown Heating Services - Complete House Renovation
The customer purchased a large, detached house planning a complete house renovation and building new garages, an annexe and outbuildings to enhance the overall property. A renewable heating system was required as the original property was heated by two oil-fired boilers and oil radiators.
The homeowner had the available land to install a ground source heat pump and therefore this was his preferred solution. New radiators and underfloor heating were also installed. A purpose-built plant room was built as one of the outbuildings within the new building construction plan.
The project incorporated a new inverter driven heat pump, a NIBE F1345 24kW ground source heat pump, with 3 x 400 metre loops of ground collector fitted in the paddocks of the property. With low water pressure in the area, R A Brown installed a Grundfos MD450 home booster which maintains 4.5 bar pressure and 2 x 180 litre water tanks in the plant room. The ground conditions were water saturated sand, with estimated average ground temperature at 10.1°C with estimated 2.4 w/mk ground thermal conductivity. This was taken into consideration in the heat pump technical design, the heat pump is designed to perform at 0°C brine conditions.
The estimated annual CO₂ emissions for an oil boiler system is 124,647 kg CO₂/kWh with the estimated annual emissions for the GSHP at 26,201 kg CO₂/kWh. This meant a potential saving of 98,466 kg CO₂/kWh following the installation of the new system.
Highly Commended: Matrix Energy Systems - Valley Farmhouse
NON DOMESTIC GROUND SOURCE PROJECT
Sponsored by ACR Journal
Finn Geotherm UK - Six-Phase District Heating Scheme Using GSHP
Finn Geotherm designed and installed a six-phase district heating scheme using GSHP to heat 113 homes on a large social housing estate owned by Flagship Group in Felixstowe. All the flats, houses and bungalows had previously been heated by electric storage heaters. Heating and domestic hot water (DHW) was inefficient and very expensive. Fuel poverty is a significant issue in locations such as this where residents are afraid or unable to heat their own homes. The project scope was to provide heating and hot water for all homes, eradicating the expensive immersion and storage heaters.
Centralised ground source plant rooms were chosen over individual air source or ground source units for each residence. The whole project was divided into six plant rooms, each supplying 18 -22 homes.
Finn Geotherm undertook a detailed heat loss assessment of every type of home on the estate, enabling a communal heating system to be designed which would allow for every residence and offer maximum efficiency. Properties were grouped to allow the resultant heat loss of each section to be met by two Lämpöässä Eli 90 GSHP and for bore hole arrays and primary distribution pipework to be accommodated within adjacent parking areas and minor access roads. The system was designed to use flow temperatures of 50°C so each home was specified with conventional wall mounted radiators.
Energy use, heating bills and carbon emission have all been reduced by around 70 per cent.
Highly Commended: GS Renewable - Hale Park
HEAT PUMP INSTALLER
Sponsored by HRP
Calibrate Energy Engineering
Shane and Susie McDonald founded Calibrate Energy Engineering in November 2012, having previously owned and operated a similar company in New Zealand. Based in rural Northumberland, the pair have built a dedicated team of experts targeting commercial, high energy users in the hospitality and agricultural sectors. Calibrate is dedicated to offering a 'hands off' renewable system by using an integrated bespoke control solution to remotely monitor tariff generation and manage the operation of a ground source heat pump.
The company's experience and build quality means that it offers further peace of mind to clients with a 20-year maintenance and extended warranty package, which enables future costs to be ascertained at the start of the project.
To date, Calibrate has re-invested well over £1m in research and development to ensure that its systems remain cutting edge. It works collaboratively with industry experts and has a long-standing relationship with Mitsubishi Electric for heat pumps.
Calibrate's team includes refrigeration engineers, mechanical engineers and software controls specialists, bringing a breadth of knowledge along with MCS certification to the design of each project.
Shane McDonald is an internationally recognised industry leader with 20 years' experience within the industry. He is a qualified industrial refrigeration and controls engineer and has project managed many large industrial sites. Susie McDonald is a passionate leader who is dedicated to the sustainable growth of Calibrate. She has experience both in start-up businesses and managing companies with a multi-million turnover.
Highly Commended: RA Brown Heating Services
HEAT PUMP PRODUCT
Sponsored by Heat Pump Association
Vaillant - aroTHERM Plus
Vaillant has invested heavily in developing a heating solution for the housing market which balances green credentials with performance capabilities. Launched in 2020, the aroTHERM is its next generation monobloc heat pump, with a hermetically sealed refrigerant circuit using the natural refrigerant propane (R290), with a global warming potential (GWP) of just 3 and a very low total equivalent warming impact (TEWI) score.
With a flow temperature of up to 75°C, the aroTHERM plus can provide up to 25 per cent more usable hot water and setting the flow to this maximum temperature means that an electric immersion heater for legionella protection is not necessary.
The Sound Safe System ensures that it is hardly audible during operation. With sound levels as low as 54dB, the 3.5, 5, 7 and 12 kW outputs have been accredited with the Quiet Mark.
Designed for the new-build market and with efficiency key to homeowners, the aroTHERM plus boasts a SCOP of up to 5.03 and the highest ErP rating of A+++, meaning that energy costs savings are possible when specified correctly. The range has been approved by MCS, meaning it is eligible for RHI.
It can also be combined with photovoltaic systems and integrated into smart power grids (SG-ready), so customers can enjoy the benefits of variable electricity tariffs.
Due to the flammable properties of R290, Vaillant has invested in an improved safety concept. Opting for a double-wall condenser, it adds another metal layer between the refrigerant and system water. In the unlikely case of leaks in the first metal layer, R290 is guided out of the condenser while the second metal layer prevents it from transferring into the system water.
Highly Commended: GS Renewable - Portable Plant Room for HP Installations
MARKETING INITIATIVE
Sponsored by REFCOM
Daikin UK – Energy For Change Campaign
The Energy for Change campaign marked Daikin's foray into the UK consumer market, calling for homeowners to make the switch to renewable heat technology and help meet sustainability targets.
While Daikin already has an established network of affiliate engineers in the UK, it needed to expand its network to cater to consumer market growth and used this one campaign to unite all audiences – B2B and B2C – adapting the messaging to strike a chord with each audience's needs, rather than creating two separate campaigns.
Daikin wanted the campaign to feel like – and gain the momentum of – a cultural movement, calling for a long-term shift in trends and behaviour, so uniting the audiences was even more important.
Among the key aims of the campaign was to educate homeowners about heat pumps as a viable alternative to fossil fuel and establish consumer brand awareness of Daikin as a domestic renewable heating provider. It was also important to recruit installers and generate sales leads.
From the launch date of June 1 to the time of submission, the campaign generated 3,315 sales leads for installers and 13,248 download requests from the Daikin website. Overall web conversions have increased by 51.66 per cent and year-on-year web traffic has grown by 49 per cent.
A total of 562 installers attended online recruitment webinars and 98.5% said they were interested in renewables as a business prospect. In addition, 263 new Sustainable Home Installers have opened accounts with Daikin, with 23 new Sustainable Home Centres being opened.
Daikin has also partnered with two of the 'Big Six' energy suppliers to make renewable heat more achievable for UK homes.
Highly Commended: BESA & Mitsubishi Electric – A Beginner's Guide to Indoor Air Quality