01 October 2018
|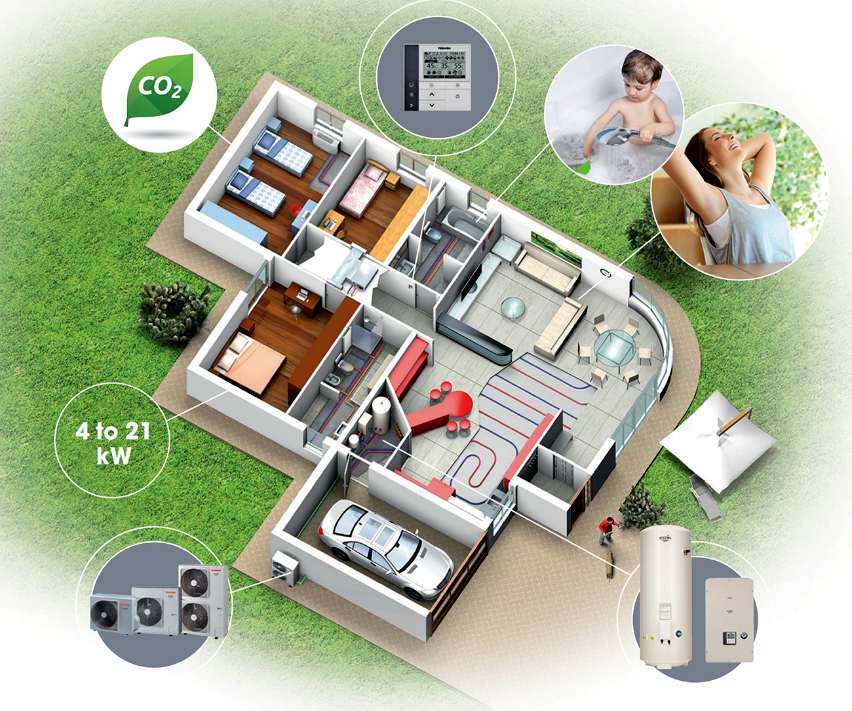 ​Toshiba has launched the fifth generation of its ESTÍA air-to-water heat pump, designed to deliver energy efficient, low cost heating and cooling for homes and small commercial properties.

The ESTÍA range claims best-in-class Coefficient of Performance (COP) of 4.90 at an air temperature of +7°C and 3.01 at -7°C, setting a new benchmark for heat pumps of this type. It is available as a split system from 4 to 16kW and monobloc from 16 to 21kW and has an efficiency rating of A++ for space and combination heating.
It can replace or complement conventional gas boilers and will work with all types of heat emitters, delivering hot water temperatures up to 55°C. It is based on Toshiba´s twin-rotary compressor and Intelligent Power Drive Unit (IPDU) inverter technology, which maintains heating and cooling capacity with high energy efficiency at all times, especially at part load use.
Toshiba claims high performance even at low ambient temperatures, providing heating at outside temperatures down to -25°C, and domestic hot water from +40°C to +75°C. Part load efficiency, at up to 163%, exceeds the latest European Commission Key Performance Indicator.
The system comprises an outdoor unit, hydro module and water tank, making installation straightforward with no need for flue or groundworks. The split solution can also work alongside traditional boilers as part of hybrid systems designed to optimise energy use.
All types of heating and cooling emitters can be used with ESTÍA, including existing low temperature radiators, underfloor heating systems and fan coil units.
For larger installations and those requiring higher water temperatures, the ESTÍA monobloc is rated A+ for space heating, and also has a best-in-class COP of 4.10 at an air temperature of +7°C and 2.51 at -7°C. The system provides direct hot water production up to 60°C down to an outdoor temperature of -10°C, and heating at outdoor temperatures down to -20°C. Part load efficiency is up to 144%.
The Toshiba ESTÍA 5 brochure can be
downloaded here
.
Content continues after advertisements