24 April 2018
|
Bob Hurley FInstR, Director of Retail Engineering Solutions, looks at these two visible ways of driving cabinet efficiency and highlights the challenges and benefits involved.

During my career at Tesco, we trialled many door options – sliding, hinged and the fatally flawed universal door; hinged for replenishment, sliding for customers. These solutions were subject to myriad and diverse opinions which makes the decision-making process difficult and few of these were based on fact. Often, the retailer in an end user business felt the door was a barrier; the engineer felt it was an energy saver. And then there is the decision of which door 'type' is best!
In wanting to listen to customers we carried out a number of Customer Question Time (CQT) sessions, across countries, to gather the most important opinions – those of our customers. Our customers often felt that, just as with their personal domestic refrigerators, the door kept the product colder and was also good at keeping the shopping aisle warmer. This is a key benefit of any door or shelf edge technology, if energy is reduced you must be losing less cold air, so shoppers may linger in the not so cold aisle longer! So far, so good.

The issue is that if 80+% (indicative) of people are 'door happy' (let's not confuse matters at this stage by stating which door type), then up to 20% may not be 'door happy'. No retailer in a saturated marketplace, with competitors often within three miles, wants to risk upsetting up to 20% of its customers, or see them browse less. And some retailers will have a bias against doors even with CQT data.

Fact one:
If legislators determined that doors must be fitted, then everyone is in the same position and effectively the issue goes away – or at least everyone is in the same place.

Some would argue that doors remain a barrier to 'impulsive shopping' and in these times, where individuals are encouraged to look at dietary details and manage their intake, this could lead to doors being held open for longer while a nutritional label is read, compounding their inconvenience…

As legislation supporting the universal fitting of doors has still not arrived, and doors have had some impact but have by no means been universally adopted in the UK (mainland Europe is more pro-door in part, as stores are often planned differently, so a hinged door will not impact upon aisle space negatively), there has been an opportunity for shelf edge technology (I mention here an interest in shelf edge technology manufacturers, as I have been engaged in some work with them).

The concept originated, I believe, many years ago when Bonnet (EPTA), showed at Euroshop a new idea, with the ticket strip being spaced forward of the shelf edge, creating an extra support to the cabinet air curtain, helping reduce turbulence. They demonstrated this with an oil injected mist and a laser. This was an interesting first step but never evolved until, in the last few years, the involvement of significant CFD (Computational Fluid Dynamics) capability from the motor racing industry, resulted in a significant step forward. Patents were registered and many of the UK retailers began trialling shelf edge technology, as none had made the move to 100% doors, instead favouring certain store formats. Even on selected formats, the wise retailer understands that a high turnover cabinet is best left without doors, especially hinged doors, as the resultant air change (think bellows) may not be good for product temperature, and the shopping aisle in peak periods will be congested. Although there are, of course, benefits during closed and low trade periods.

Alternatively, the sliding door may result in less air change but could be considered obstructive to the module of food either side and, most importantly, the nature of a sliding door introduces more mechanical parts and the potential for increased maintenance costs.

Fact two:
The simplest door is hinged.

Already used in significant quantities across the world as a chilled door, frozen food door and half glass door. The sliding door has a place, especially if the engineering can be improved to make it more reliable, but this is yet to be proven. The sliding/hinged door is not worthy of further discussion, it is simply too complex for a retail environment and prone to malfunction. All door solutions need great LED lighting, which does of course nibble away at the energy savings achieved. Does shelf edge technology require additional lighting? From the in-store trials I have seen, it doesn't but this can change by cabinet manufacturer and needs to be reviewed.

The sliding door was initially developed to address the issue of tight aisles and the desire not to block customer flow. In a narrow aisle, I would argue that someone shopping a cabinet has a similar obstacle, whether the door is sliding or hinged. The key question I ask here and one I have never received a considered response to is, removing assumption and bias, when will a study with the use of CCTV and actual shopping behaviours be used to inform decision making? All too often, it is a decision based without fact or supporting data, which decides which door is used. Much of this results in a reluctance to install doors across formats in the UK, where store planning can easily result in doors facing doors and the assumption of congestion.

This is why shelf edge technology is gaining some momentum with a number of retailers adopting it across some formats, or at least trialling the solutions. The resultant savings seen in test laboratories at 25deg c/60% RH do make for some significant savings; the writer having seen up to -37%. This is of course not in store conditions, so this frequently reduces the savings obtained, to nearer -15%. More testing and large roll outs will confirm a more consistent consensus on what can be saved at 20deg c/50 % RH. More consistent temperature banding and performance than open fronted cabinets has also been seen with this technology, though a challenge is ensuring good replenishment routines in store, so that the product is not placed on the shelf edge technology as a de facto shelf extension. A product riser can help counter this issue, but the purpose of the product riser needs to be in conjunction with staff training on correct merchandising. It is also important for shelf edge technology to be kept as narrow as possible. The deeper it is, the more prone to damage, use as a shelf extension, and less attractive to retail designers, it will become.

Fact three and summary:
Shelf edge technology and/or doors can save energy and can improve temperature bands and product temperature. But they need to be selected appropriately and to deliver the best possible benefit given the challenges of a given location and trading pattern, on-going maintenance and, most importantly, deliver a positive shopping experience for the customer. After all, we want the shopping experience to remain positive or the world of .com will further accelerate.

All this is similar to the plant discussion our industry faces. No one natural solution is best. The solution selected needs to best address the challenges of the application, its ambient and local skill set, in delivering, servicing and maintaining it.

The future:
No-one has a crystal ball but the increase in CFD use in refrigeration cabinets (with more innovation to come?) is surely just the start. When was ducting in the HVAC industry, for instance, subject to a next step forward? I may not be aware of all that is being developed but the potential for managing air better is surely nearer the start than the finishing line. Which is an optimistic place to be in.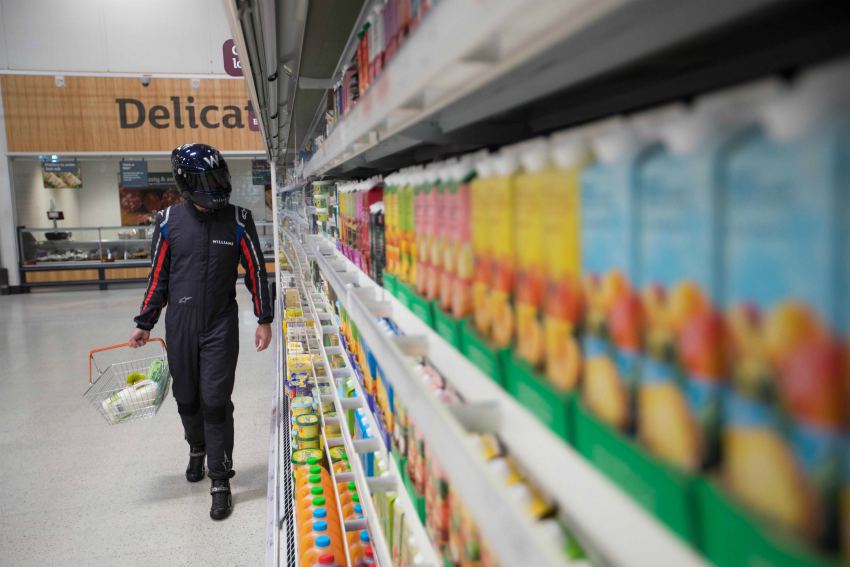 How F1 technology is helping to drive supermarket savings
Sainsbury's is using technology partly developed by the Williams F1 team to reduce electricity consumption across its stores.
The retailer says the Aerofoil technology is helping it to cut electricity usage by up to 15% – as well as making the aisles more comfortable for shoppers by reducing the amount of cold air that escapes.
Williams Advanced Engineering, the technology and engineering business of the Williams F1 Group, worked with UK start-up Aerofoil Energy to develop the device using its expertise in aero and thermodynamics. It says the programme across all 1,400 of the retailer's UK outlets will result in energy reductions of 44m kWh a year. Sainsbury's believes the overall saving could be as much as 15 per cent.
The device, inspired by the rear wing on a Williams F1 car, has shown significant reductions in energy consumption and was trialled in 50 stores. Sainsbury's is installing the Aerofoils as part of a retrofit programme, and all new fridges will be fitted with the technology as standard.
Content continues after advertisements