04 November 2021
|
Sam Jones at S&P UK in Ipswich
When Sam Jones cycles into work every day at a modern business park in Ipswich, he looks forward to taking another step in his career in engineering and commercial ventilation.
The 16-year-old jumped straight from school this summer to take advantage of S&P UK's Engineering Technician Level 3 Apprenticeship and join a growing team of future leaders.
The decision made perfect sense for Sam. He said: "I achieved Grade 9 in Maths and Physics and have always enjoyed working with numbers. It's difficult to explain but they're logical – you achieve perfection in understanding.
"I've also always enjoyed anything hands-on that engages my brain and hands. I work on push bikes with my dad Nigel and we recently built a large garden decking set for my grandparents' 50th wedding anniversary which they love. It was challenging but worth it.
"Some people are more studious and naturally go for the college and university route. But that wasn't for me, or my best friend, and I think more of my generation are starting to realise there are different, and sometimes better suited, pathways to find your chosen career.
"So, all combined, I saw the S&P UK apprenticeship online and it seemed perfect. I'm so happy I was chosen. I'm learning so many skills and have been made to feel so welcome."
S&P UK is investing in the future of four apprentices at its Ipswich headquarters to play its part in bridging the skills gap that has bedevilled the industry for over a decade.
British manufacturers are facing the biggest shortage of skilled workers since 1989, the Annual Manufacturing Report 2020 found. Outdated perceptions over pay and conditions as well as political and economic uncertainty are often blamed. The impact on productivity, global competitiveness and ushering in technology's Industry 4.0 cannot be exaggerated.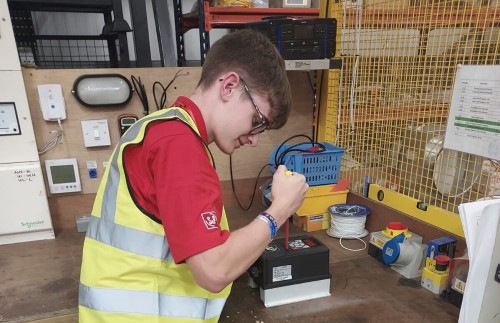 Content continues after advertisements
Sam believes more young people are realising the benefits of apprenticeships
S&P UK managing director, Alex Finch, said: "Manufacturing and engineering need to adjust their image as highly skilled, innovative, creative and well-paid industries to attract young talent. We are backing up our words with action: we have three apprentices and a former apprentice now occupying a senior role within the company.
"We are thrilled to have Sam on board. He's a prime example of a young person who has really thought about their future and where their strengths lie. He has hit the ground running and we can't wait to watch him flourish into a skilled engineer."
Kieran Ince, Sam's mentor who was recently shortlisted as a Rising Star finalist at the National Apprenticeship Awards (East of England), praised his "rapid progression". He said: "Sam is getting involved in various aspects of the engineering role and is always looking to help and improve. He has managed to very quickly grasp and work without guidance on the returns procedure and production of simple components."
Sam's three-year Engineering Technician Level 3 Apprenticeship is sponsored by S&P UK and supported by Colchester Institute.
Sam added: "I love the practical work and hope to have a long and great career at S&P UK. Lots of people my age are struggling to work out their future. My message to them is to really think hard about what you're good at and what you might enjoy – and go for it."
S&P UK Ventilation Systems is the UK subsidiary of leading global manufacturer Soler and Palau.