18 December 2019
|
The move to new premises in Birkenhead has given SURE Solutions engineering and storage facilities, in addition to office space. From left, Rob Wharton, John Callan, Bryony Farr, Garry Shaw, Mark Parry, Joanne Kelly, Craig Costall and Craig Shaw
Refrigeration company SURE Solutions has made its presence felt since it was founded in 2016. David Todd headed to Birkenhead to learn more about the journey so far.
Just three years after setting up a new business from his kitchen at home, Garry Shaw is understandably proud of how SURE Solutions has grown.
The Birkenhead-based refrigeration specialist recently completed its biggest single project to date, the UK's first new poultry processing site in 30 years for leading food producer Cranswick, in Eye, Suffolk. The plant can process 15,000 birds per hour and SURE has installed 5MW of process cooling on direct ammonia/glycol, plus 800kW of heat recovery.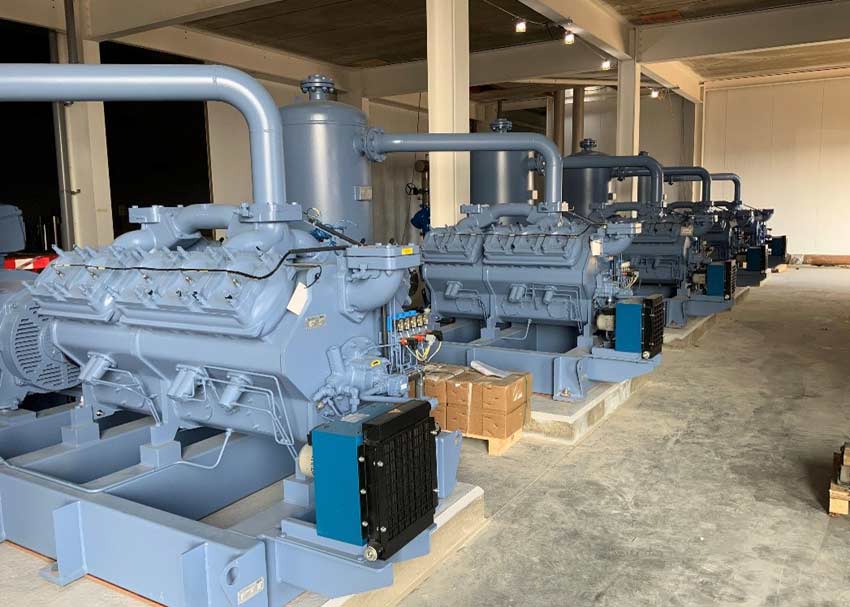 The project for Cranswick is the company's biggest to date
"It's a measure of how far we have come," says Shaw. "I am very proud of our part in the project and also of the fact that it has given us the opportunity to show the world what we can do, what our capabilities are."
Delivering the Cranswick plant, with 11,000 litres of ammonia and stainless steel for all high-side pipework, has seen SURE on site for around 10 months, with up to nine direct engineers and 40 sub-contractors. That is on a scale that Shaw could scarcely have imagined when he launched the business alongside wife, Amy, in August 2016.
He recalls: "It was a pretty turbulent start because my youngest son, Max, was born two days after my first day for the business! (Oldest son Craig is operations manager at SURE). We had a plan, of course, but it has gone better than we could ever have hoped."
Rapid growth
Rob Wharton was the first to join the fledgling business in November of 2016 and shortly after that SURE landed its first significant contract, removing problem parts of a chilling system for Muller Milk and Ingredients in Droitwich and increasing the cooling capacity from 3MW to 5.2MW. SURE performed the role of principal contractor and principal designer, and also supplied and installed 4MW of temporary cooling while the work was completed.
The first major project for SURE was the Muller plant at Droitwich
"By the time we actually started the job in March 2017 we were up to nine staff, including myself and Amy, so it was rapid growth. And before we began on site we already had more than £3million of orders for other projects."
That growth has continued with the workforce now standing at 27, including nine engineers and four engineering apprentices. Just over a year ago, SURE outgrew its office space with the local Chamber of Commerce and moved to a new 8,000 sq ft base as it geared up for major contracts with supermarket giant Morrisons and frozen food specialists Young's, among others.
"This place gives us the engineering and storage space we need and allows us to put down roots," says Shaw. "The idea was to give us a 20-year base and hopefully future-proof the business."
SURE Solutions Managing Director Garry Shaw
That the business remains firmly rooted in the world of natural refrigerants, industrial refrigeration and process cooling is unsurprising, given its founder's background. He began his working life as an apprentice engineer with Ice-Tech in Wallasey and remained with the company for close to three decades, as it was acquired by Sabroe, York International and, finally, Johnson Controls.
Brilliant team
Shaw said: "We want to concentrate on what we do best, food manufacturing facilities, regional distribution centres and process cooling. The most important thing is always to leave a job with a pleased client behind us, rather than focus on driving the margins.
"Training and development is of particular importance to us and we ensure our team are up to date with all of the essential training qualifications associated with their role, as well as offering additional training in things like first aid, CDM site management, accounting and environmental awareness.''
One change has seen the company taking on an increasing number of CO2 projects, including two distribution centres for Morrisons. Shaw said: "CO2 systems are now becoming more robust. There are not that many out there at an industrial level but that is changing and people are becoming less fearful in terms of the higher operating pressures. Supermarkets led the way with the change and that is now having an impact on the industrial sector. We have seven CO2 systems being installed at the moment, four large and three small… last year we had zero.''
Shaw is now anticipating a period of consolidation in terms of recruitment. He said: "I am mindful of the fact that we have grown quickly and we don't want to overshoot. We will have a period of stabilisation for the winter months and see where we are then.''
Although SURE has around 20 service sites at present, he would like to grow that number in order to create more of a balance, while still remaining primarily a projects-based business.
​
"The one thing that I am most proud of is the brilliant team we have put together,'' he said. "It is very strong technically, with something like 350 years of industrial experience collectively. They all know their role and, just as important, they are happy to cross over into other areas and focus on what they can do for the business.''
SURE says the training and development of staff is a key part of the business
Content continues after advertisements