04 May 2020
|
Peter Woods, centre, and John Kilby, right with some members of the Wolseley Custom Build team
Wolseley believes its in-house manufacturing arm has a key role to play in supporting contractors. David Todd visited Newbury to find out more.
There's a steady stream of customers at Wolseley in Newbury, yet the rear of the building houses a business many trade counter regulars are probably unaware of.
The Custom Build facility has been part of the operation for more than 25 years and Wolseley is spreading the word of the in-house manufacturing capabilities on offer.
Sales Director for Cooling Robert Franklin explained: "We have changed our business so much that sometimes what we can offer here can be overlooked.
"We want to inform more contractors on exactly how we can help them with their custom build requirements.''
Custom Build offers bespoke solutions for blast freezers and blast chillers, both high temperature and low temperature cold rooms, scroll packs and condensing units, as well as water-cooled condensing units. Applications range from cold room plant butcher's shops to large-scale crop storage.
The centre is overseen by Technical Sales Manager Peter Woods, who also designs all systems alongside Wolseley's four regional applications engineers.
The on-site team is headed by Engineering Manager John Kilby and supported by the four applications engineers, who manage the enquiries from the branch network and external sales teams.
Content continues after advertisements
Woods said: "We have a varied customer base, from one-man operations up to large national contractors, from convenience retail through to industrial. We believe it's important to raise awareness of the great services we offer.
"We only ever use the highest quality components. Our business is all about providing long-term solutions and our team offer support at all levels, from the initial enquiry right through to installation.''
Wolseley knows that some contractors require more guidance with the next F-Gas stepdown in January 2021, which will squeeze the availability of high GWP refrigerants.
Woods said: "Now is the time to start thinking about alternative refrigerants, such as A2Ls, to provide a long-term solution, rather than continue with R448 or R449 where the cost and availability is uncertain and is an interim solution. I'm not sure that everyone fully understands that.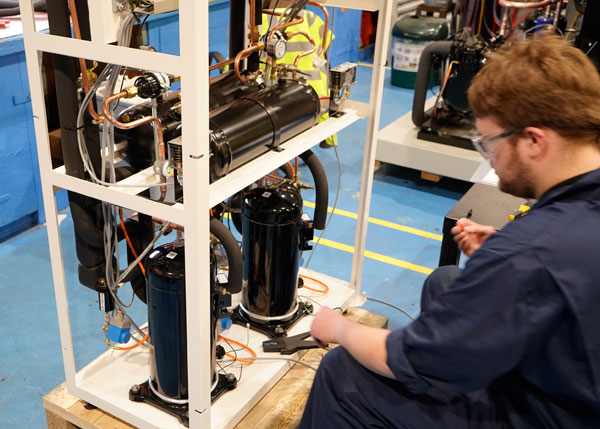 "I would also be thinking about what type of plant I'm putting in with regards to resilience. So, if I've got a central packaged system of 400kW and I'm running a suite of 7 or 10 large cold rooms, do I really want all my eggs in one basket where one leak could cost me a fortune? Would it not make more sense to have a modular system where a condensing unit runs one or two cold rooms, so I'm not going to lose my business with one central plant?
"We are already producing A2L systems for the most forward-thinking contractors with long standing customers prepared to make the investment. These systems will become the bread and butter of the industry as more equipment becomes available.
Franklin added: "If, as we expect, A2L systems do become the default, we are perfectly positioned to supply that part of the market with what we can produce
here.''