31 August 2016
|
Hotels that fail to provide good air conditioning for their guests can have a poor impact on their online reputation, a survey by Synecore recently found.

Poor air conditioning might also show that hotels are not implementing their legal obligations to maintain their systems, according the Kent-based air conditioning business.

Air conditioning is standard in many hotels rooms around the world today. It is not only hotels in hot countries that have air conditioning fitted in guest rooms. Hotel rooms in cooler countries like Britain also use cooling systems.
​Synecore's survey found that, in London, guests often complain about the lack of, or badly maintained, air conditioning in the city's hotels. Unhappy guests post their feelings about the poor AC in online travel sites which can badly damage hotel's reputation.

In fact, the well known travel review site, Trip Advisor's 'Trip Barometer' study shows travel trends in 2016. The study found that 63% of travellers around the world said that air conditioning was a requirement when they looked for places to stay. Air conditioning was more important to them than breakfast (40%), or a swimming pool (26%).

Synecore is a professional Mechanical and Engineering contractor that works with hotels throughout the UK helping them with their air conditioning design, installation and maintenance. The company has set itself the task of educating hotel customers on the importance of a good air conditioning systems in their guest rooms for their online reputations. It is difficult for hotels to rebuild their reputations once guests complain online on sites like Trip Advisor.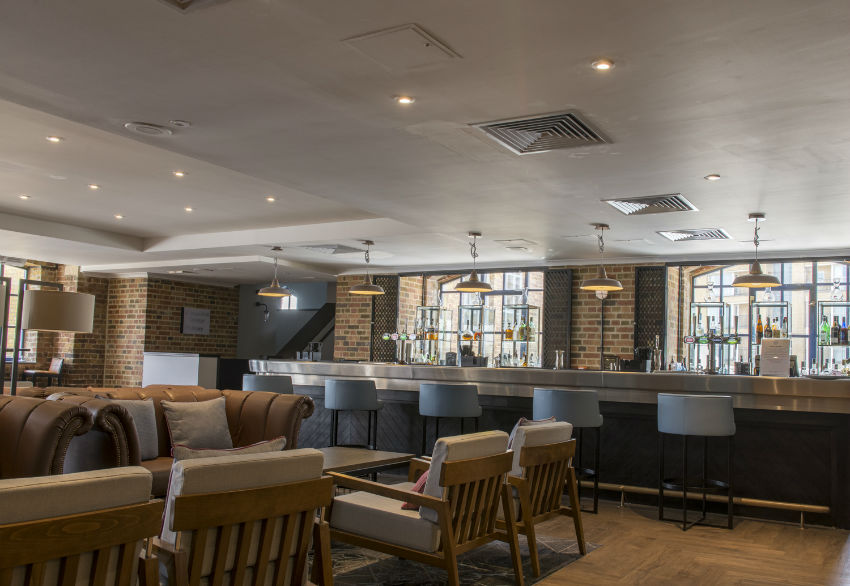 ​Synecore's HVAC manager, Gary Piper, says:
​"It is surprising that so many hotels do not provide good air conditioning as a basic service to their guests. Our research has discovered that the main complaints relating to poor air conditioning in hotels are largely due to under maintained systems that don't perform efficiently. Shockingly, complaints are often ignored, or a fan is provided as an alternative. In these instances, we firmly believe the negative comments are well deserved.

"Keeping your air conditioning system well maintained is not difficult, especially with Planned Preventative Maintenance Schemes, such as ours, where the air conditioning system is regularly serviced, cleaned, checked for leaks and tested. Most importantly these under-maintained systems could be a sign the hotel is not fulfilling its legal obligations of remaining FGas compliant and they possibly do not hold an up-to-date TM44 assessment.

"Large air conditioning systems, often found in hotels, must be regularly leak tested to prevent the release of harmful ozone depleting gases being released into the atmosphere. A poor performing system could be a sign of a leak and it must be rectified immediately, or the hotel could receive significant penalty fines if not addressed."

​The biggest complaints about air conditioning in London hotels include:
Having to open windows to get some fresh air into the room in a city when the high noise level of traffic in the streets by day and night make getting some rest difficult. Often, hotels restrict how far guests can open windows for safety reasons, which restricts the airflow in and out of the room.
Smelly and noisy air conditioning as a result of poor maintenance leaves a poor impression of the hotel for guests. And, when guests' concerns are not dealt with quickly, the hotel is very likely to get a negative review.
Ineffective air conditioning, or systems with complicated controls frustrates guests. It also might mean that an AC unit is leaking, which is illegal. Any units like this must be serviced immediately unless the hotel wants to face heavy fines.
Air conditioning in the public spaces in a hotel, but not in the guest rooms gives the impression that paying guests are less important than the staff.
​Hotels that have had negative reviews have,however, responded by updating the air conditioning in their rooms, according to Synecore. Some hotels with good air conditioning get high praise from guests which shows how important it is for them.

Hotels that ignore bad feedback about their air conditioning often do so, according to Synecore' survey, do so because their don't realise it is possible to install it in their buildings. Or, they often do not have a repair contract in place.
​
Gary Piper responded by saying:
​"We design and install bespoke air conditioning systems for all types of commercial properties, there are no limits. We only use products from leading manufacturers to ensure the systems we install last. They also come with payment plans and competitive warranty periods, when combined with our Planned Preventative Maintenance (PPM) scheme, which offers a 24/7 call out service. So, there really are no excuses for hotels not giving guests the basic service of good air conditioning."
​Synecore's tailor PPM plans to meet the needs of the individual hotel. The PPM service also ensures an air conditioning system remains F Gas compliant and has an up-to-date TM44 assessment. All businesses with air conditioning installed have legal obligations to fulfil.
Hotels that need advice on installing or maintaining an air conditioning system, or that worry that they might have an air conditioning leak should contact Synecore on 0845 241 4953 or visit www.synecore.co.uk
Content continues after advertisements